Traditional celebrities built their influence and fame through traditional channels such as television, radio, magazines, movies, music, or other fields of talent. They have fan bases across all age groups, income levels, geographic locations, and a varied general public. Internet celebrities, on the other hand, built their presence through non-traditional media channels such as social media, blogs, vlogs, and other internet-based platforms. They have subscribers on various platforms including YouTube, Instagram, Facebook, and Twitch TV; reaching niche audiences who have specific interests.
Marketers have long used the strategy of celebrity endorsements. Celebrity endorsements are most effective when the product being promoted seems like something the celebrity would genuinely and actually use themselves. Furthermore, a Taiwanese study showed that consumers have increased recall of products that have been endorsed by celebrities -- regardless of whether they are a fan or not. Products that are endorsed by celebrities are viewed highly by consumers, who associate these brands with the celebrities' attributes, including their beauty, skill, status, and reputation.
Celebrity endorsements with traditional celebrities have the advantage of providing massive visibility to an existing general audience and producing positive results for brands. They offer broad appeal with their recognizable names and/or likenesses, which allow them to reach audiences both nationally and internationally. They often become the face of a brand. However, they are highly costly and can shrink a brand's yearly marketing budget; putting all their eggs in one basket. They may also be high-risk, with pitfalls including brand and celebrity mismatches, a campaign that feels too disingenuous, and celebrity scandals. Celebrities may also be viewed by consumers as less relatable or reachable due to the little or no direct communication with their fans.
A new dimension of marketing is emerging with the rise of internet celebrities -- or influencers. Celebrity endorsements with internet celebrities tend to be far more targeted due to their base focus in certain fields such as fashion, beauty, travel, cooking, gaming, and fitness. Their audiences can be filtered even further by demographics, location, and preferred audience attributes, which MRI-Simmons adds to the mix with our MRI/E-Score Celebrity Fusion. Internet celebrities are creatives who are good at producing compelling content while integrating messages that feel authentic. They interact with their audiences directly through comments or videos, creating a personal relationship with their followers, strengthening their reach. Influencers can be far less costly than traditional celebrities. Because the influencer marketing industry is relatively new, marketers are still teasing out strategies and have yet to optimize this growing area. Finding the right influencer or traditional celebrity for endorsements is challenging. Brands must invest their time in researching and communicating with influencers or celebrities to make sure they have a good match that will deliver the best positive outcomes.
To help marketers best align celebrities of both types, the MRI/E-Score Celebrity Fusion offers insights into both traditional celebrities' and internet celebrities' fan base consumption across categories including general attitudes, banking, finance attitudes, sports fan ship, fast food restaurants, and snack brands; giving brands and marketers the data they need to create effective campaigns and drive sales.
Traditional Celebrities
Ed Sheeran, Kylie Jenner, Kanye West, Lionel Messi, and Cristiano Ronaldo are on Forbes' list of the 2019 top 25 celebrities ranked by revenue generation. The MRI/E-Score Celebrity Fusion allows you to look into their fanbase consumption as well as their non-fans' attitudes and behaviors.
Attitudes and values segments shed light on who your target group is and what they believe in. Brands can find out what their target groups think about celebrities. Compared to the average American, Ed Sheeran fans, for instance, are 13% more likely to agree that they love keeping up with celebrity news and gossip while Kylie Jenner fans are 14% more likely to agree that they feel good about seeing celebrities in the media who share their ethnic background.
Brands can also find out all about consumption habits across a wide swath of categories. For example, when it comes to what restaurants their potential customers frequent, fans of Lionel Messi are 50% more likely to eat at Chipotle Mexican Grill while fans of Kanye West are 22% more likely to eat at Dominos than the average American.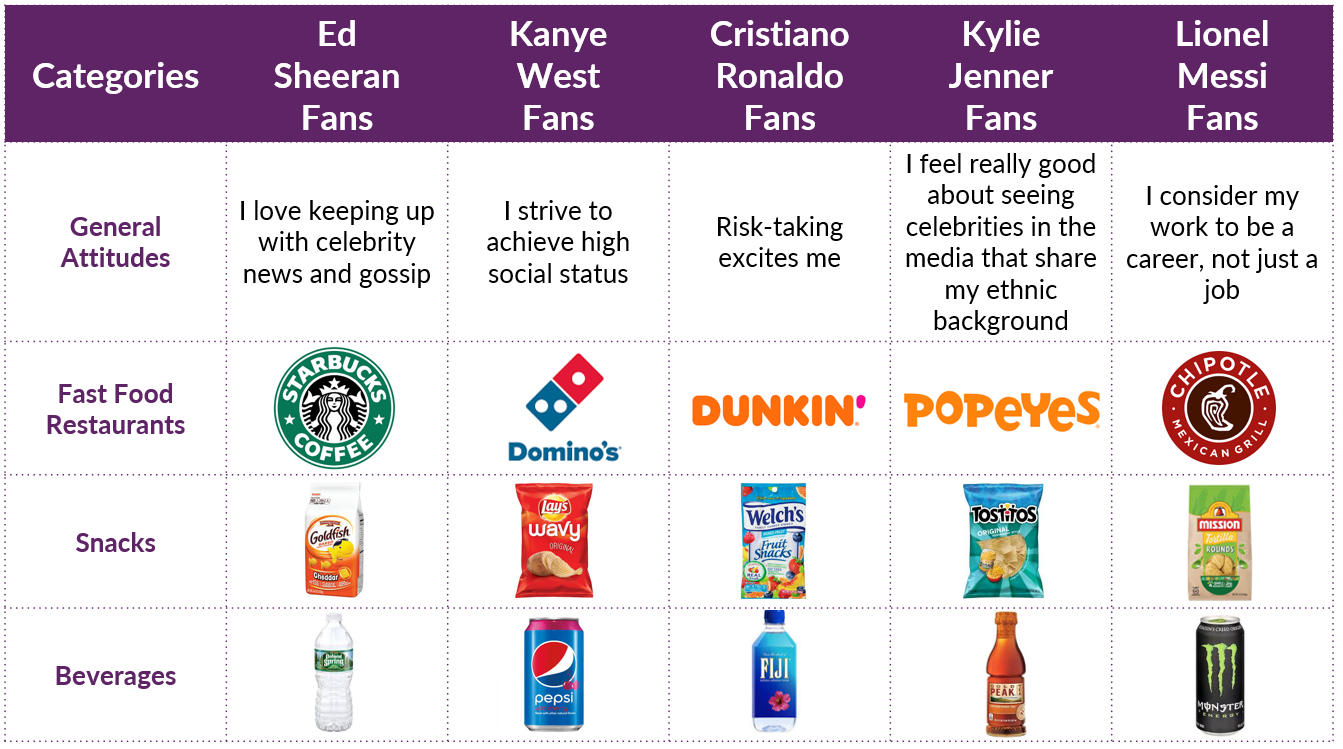 Internet Celebrities
In addition to traditional celebrity insights, the MRI/E-Score Celebrity Fusion offers a category just for internet celebrities and their fan base, including consumption of various products and services. PewDiePie, Lele Pons, Markiplier, Huda Kattan, and Jenna Marbles are top internet celebrities primarily on Youtube in 2018.
Marketers can dive into their target fans' sports fan ship; PewDiePie's fans are 29% more likely to be NFL fans and Markiplier's fans are 69% more likely to be fans of Professional Wrestling than the average American.
Snack brands are an interesting category to look into as well, with fans of Lele Pons 57% more likely to choose Slim Jims and fans of Huda Kattan 23% more likely to choose Chips Ahoy compared with the average American.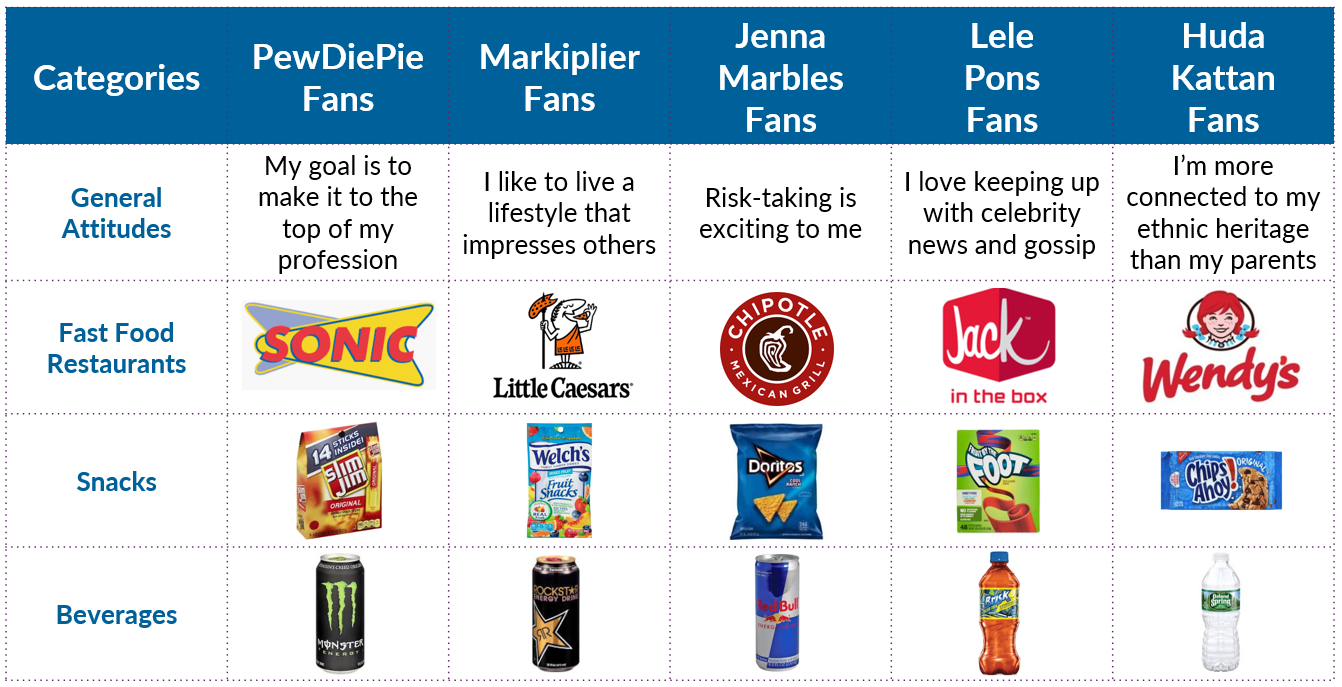 As the "celebrity" landscape is constantly shifting, it is important to have the best tools to help you find the right face to endorse your brand. Word of mouth marketing has long proven to be a very effective sales driver so it is natural that these influencers have become official (or unofficial) brand ambassadors.
They have real power to influence countless brand consumers, and brands can dive deep into the fan preferences and worlview of these celebrities – internet or traditional – through the MRI/E-Score Celebrity fusion.
To learn more and see how this can work for you, contact us.