As Americans, we live in a multi-cultural world. Open up your GrubHub or DoorDash app, stroll the aisles of your local supermarket, and even channel surf your cable selection, and you are bound to see options from a variety of cultures. These diverse options reflect the changing cultural makeup of the population of the United States and influence and drive innovations in products from your supermarket to your television and beyond.
So how can marketers best react to the changing marketplace of constant innovation? What is the best product and marketing mix to expand their penetration across diverse markets? How can they find and reach these shifting demographic groups – and target those consumers that may be amenable to embracing products outside the realm of their usual experience?
Cultural Suite, a new product from the teams at MRI-Simmons and Ethnifacts, provides a cross-cultural lens into consumer behavior with two segmentations, helping marketers expand consumer targets beyond demographics by identifying consumers who are more likely to embrace multicultural and general market products. The solution also helps marketers define fluid acculturation, from unacculturated to fully assimilated, and informs messaging strategies that will appeal to target consumers.
The Ambicultural Fluidity Segmentation explores Hispanic consumers' movements towards and away from mainstream American culture versus their root culture, with a tendency toward the the ambicultural center from both sides. In this segmentation, Hispanics are divided into five groups based on their affinity to their root or host culture.

The Intercultural Affinity Segmentation includes five segments, across the entire adult population of the United States, measuring the mindset, behavior, and opportunity to embrace or reject things outside one's root culture, and providing a lens into the cross-cultural world in which we live.

Case Study 1: Retail
Now let's take a look at each of these in action, starting with the Ambicultural Fluidity segments for a retail client. The retail client can use these segments to identify cultural affinity among consumers to best leverage their shopping behaviors and media habits and thus explore opportunities among the different segments.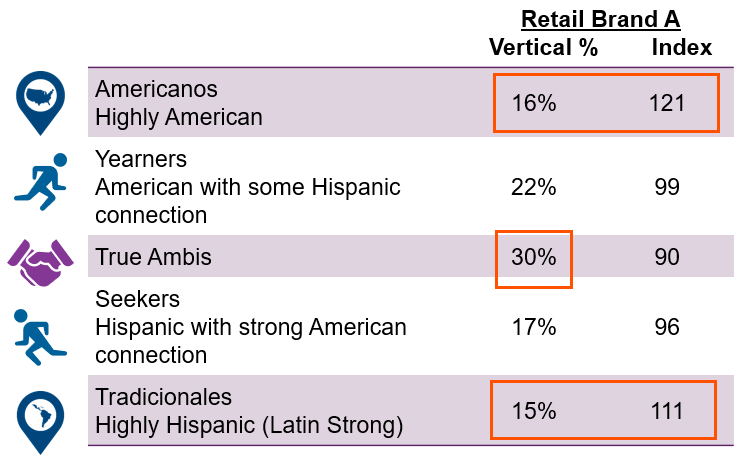 For this retail brand, the largest group of target consumers are True Ambis. However, the brand has a diverse base of clients in addition to this; specifically, its customers are more likely (than Hispanics in general) to be Americanos and Tradicionales, which suggests the retailer has an opportunity to reach a more diverse base of consumers with culturally relevant marketing messaging and media targeting.
Once we know which segments are important to our retail brand, we can dig a little deeper into the data and get a more specific understanding of these opportunities; for example, messaging based on product preferences or even potential partnerships.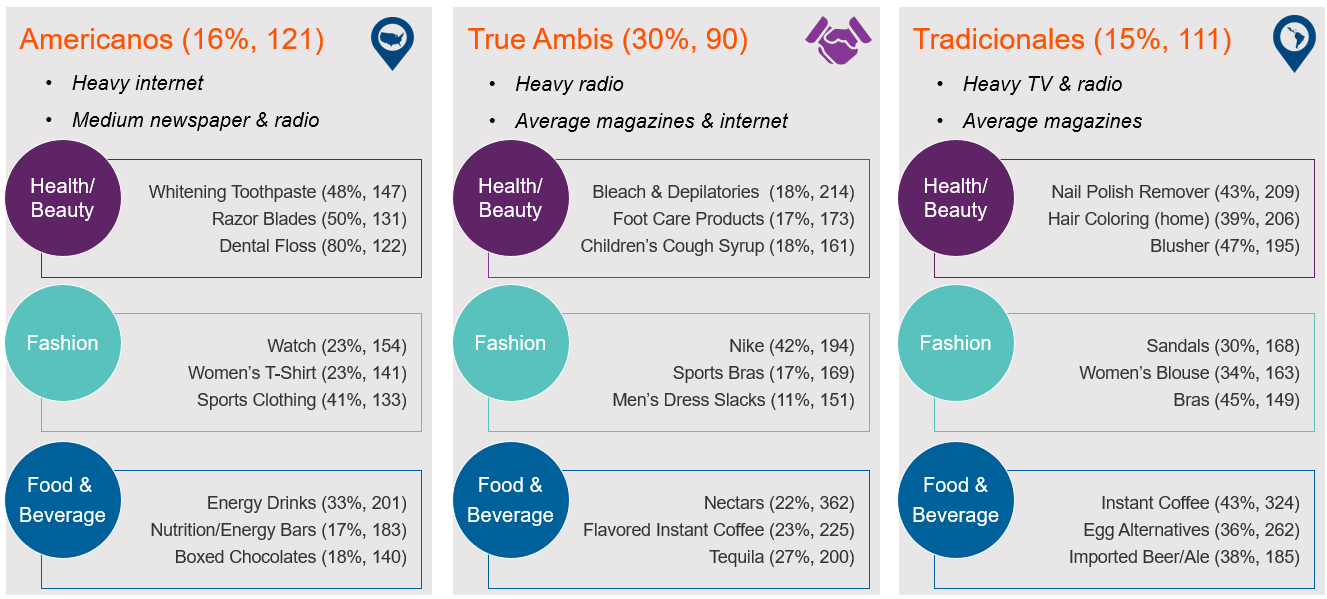 Case Study 2: Brand
Here, we're going to look at how a brand, in this case one that is traditionally Hispanic-focused, can use the Intercultural Affinity segmentation to identify new opportunities to expand their market share.
Using a traditional demographic segmentation to reach Hispanics, this brand would miss a large number of non-Hispanic consumers willing to embrace tastes and preferences outside their culture. Looking at their current customers (both Hispanic and non-Hispanic) as well as their non-Hispanic non-consumers across these segments, we can see potential growth of nearly 50% by targeting the Ambiculturals – a group that has diverse tastes and preferences and are also influential among their friends and peer group.

Now that the brand has determined who they need to reach to extend their market, they can use the segments within the MRI-Simmons data to explore options on media targeting (from cable to streaming to internet and more) and tease out additional data on their attitudes and buying styles to build a messaging strategy.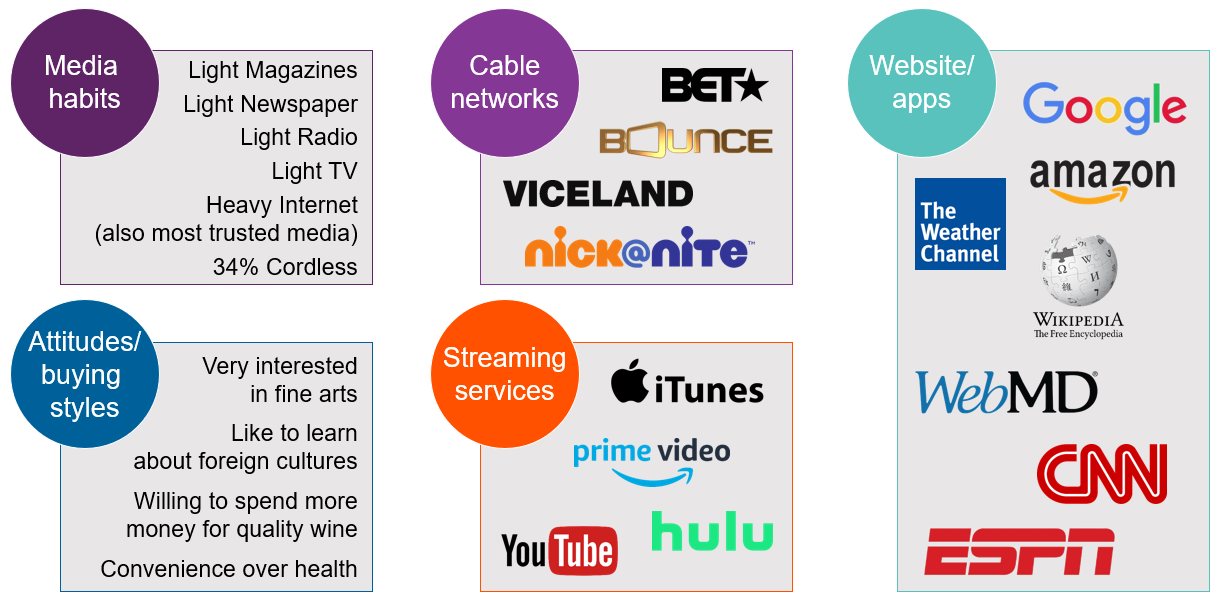 The Cultural Suite gives marketers a way to explore the cultural fluidity that drives modern American consumption patterns and to learn more about consumers' expanding tastes and preferences, building a cross-cultural plan to reach the best market for their products.
To learn more, contact us.