Persona Creator (Beta) is a clustering tool to help marketers identify niche segments of their brand, the competitor, or the prospective consumer. Utilizing Simmons attitudinal statements, you can learn how consumers of the selected brand differentiate from one another based on their motivations.

Most segmentation projects take weeks to complete and require specific business rules. With Persona Creator, you can research a theory in minutes without draining resources or building a business plan. Do you have a hunch that a subset of fast food consumers is actually health conscientious? Do Ford consumers tend to be more politically conservative? Do you need more creative for your awareness campaign to speak to each audience member? Or are your sub-segments similar enough that addressing key themes will resonate regardless of their differences?
Test your theories here, whether it is brand-based, actions-based, or attributes-based – create a persona and dig deeper. With Persona Creator, you can use our default selections or you can test a myriad of theories applying any grouping of Simmons attitudinal statements.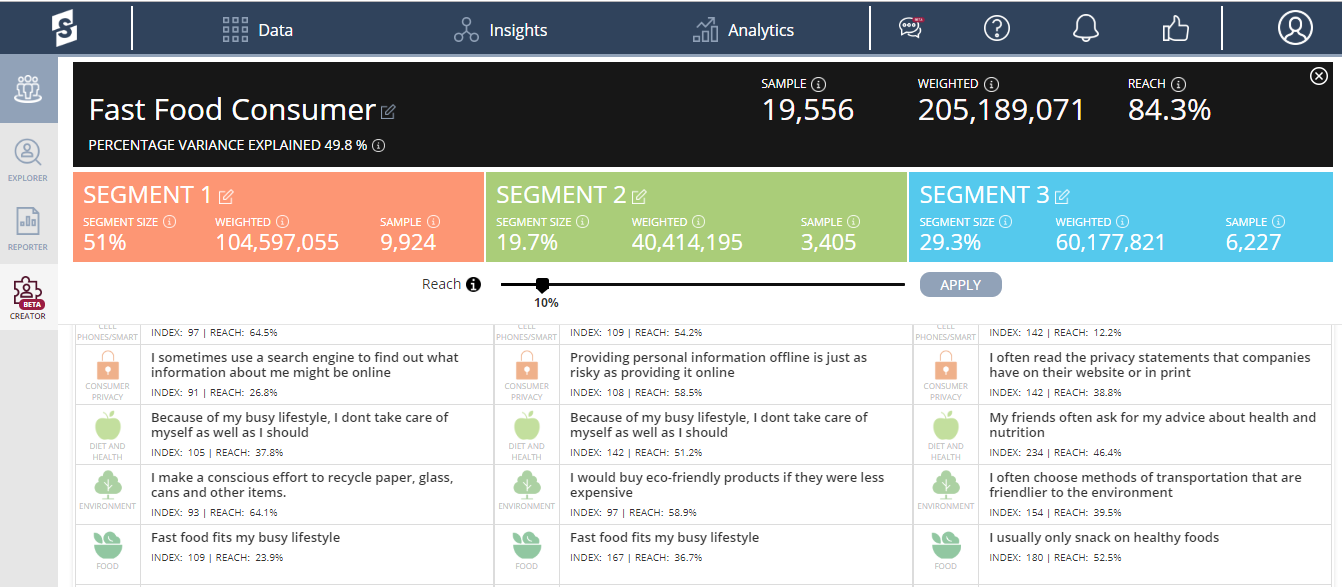 For example, when we analyze fast food consumers and focus on their diet and health attitudes, we discover that there is a large subset of the population that tries to exercise regularly and make healthy diet decisions. They consume fast food because it fits their busy lifestyle.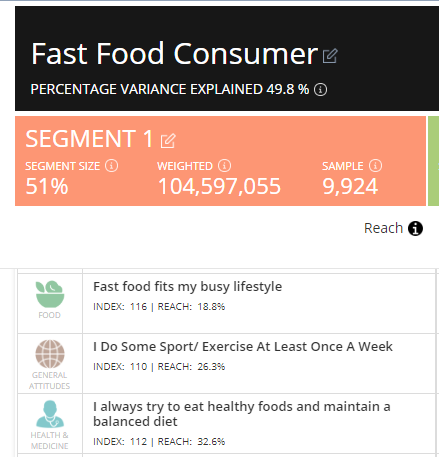 One could theorize that fast food is less of a lifestyle choice and more of a necessity to keep moving. If there were healthy options on the menu or healthy fast food chains, then this consumer has the potential to become a loyal consumer. They may buy this brand when they see it in the supermarket and try out any new products because the brand created it.
Meanwhile, there is a segment of fast food consumers that do their research. They are the know-it-alls in their circle of friends, and they are the go-to for advice.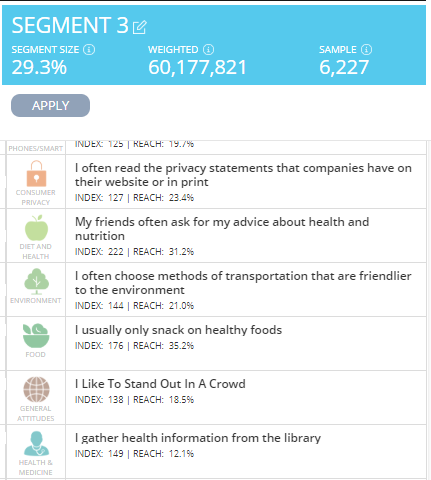 Influence this segment to consume your brand, and you have now reached their entire network as well.
Now let's look at the Ford consumer. Within each segment, the reach is 20% or greater regarding politics; therefore, the Ford consumers DO tend to be more conservative in their political views.

How can you apply some of the learnings to key business decisions? For example, are you torn between allocating more budget to creative or purchasing more media to reach more members of the desired audience? Are there key attitudes or behaviors that resonate regardless of segment?
Take Purell, for instance. The 3 default segments are vastly different from one another. Their attitudes, brand preferences, and demographics are all unique, suggesting that Purell needs at least 3 different creative messages to resonate with each group of people.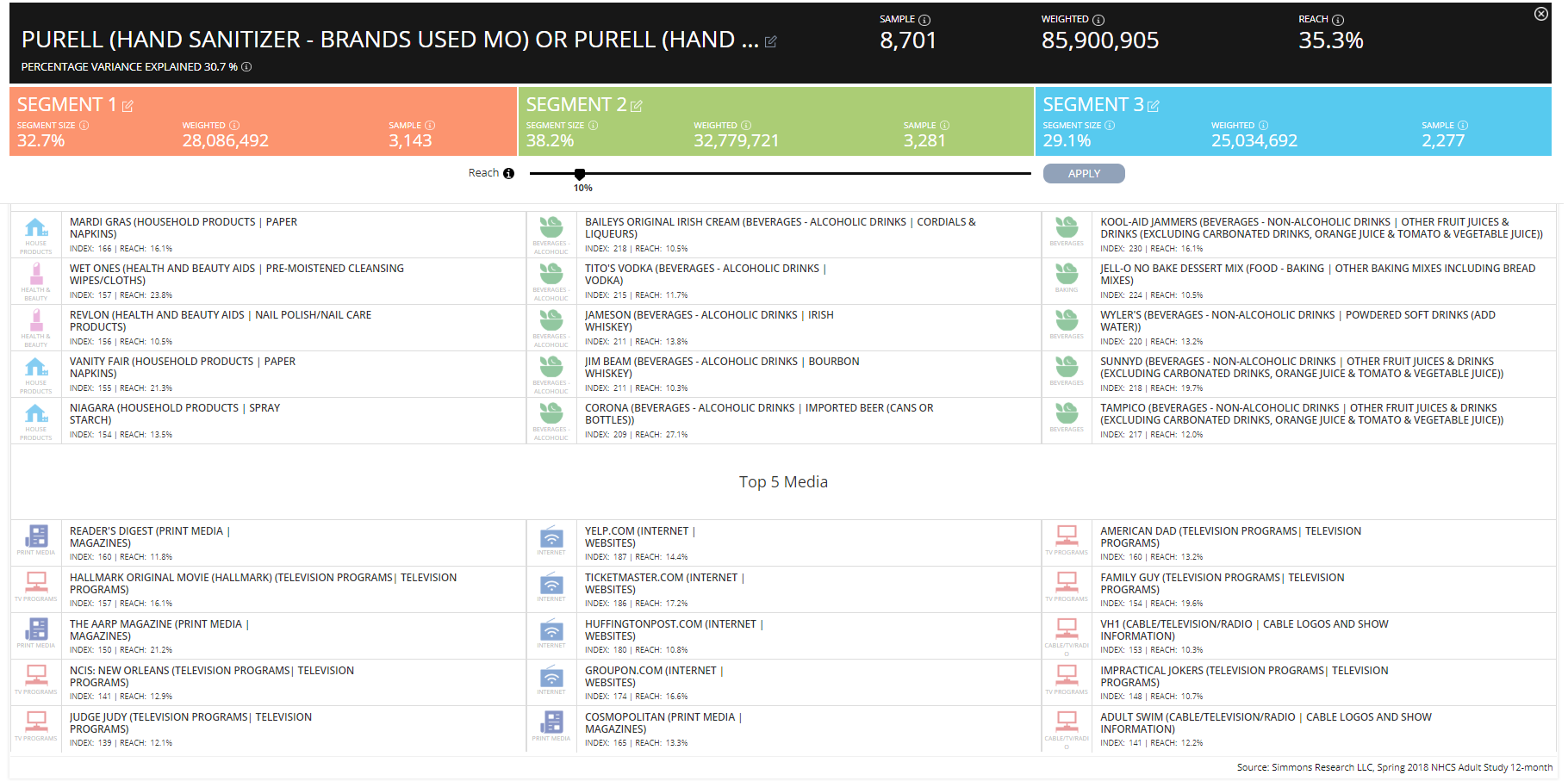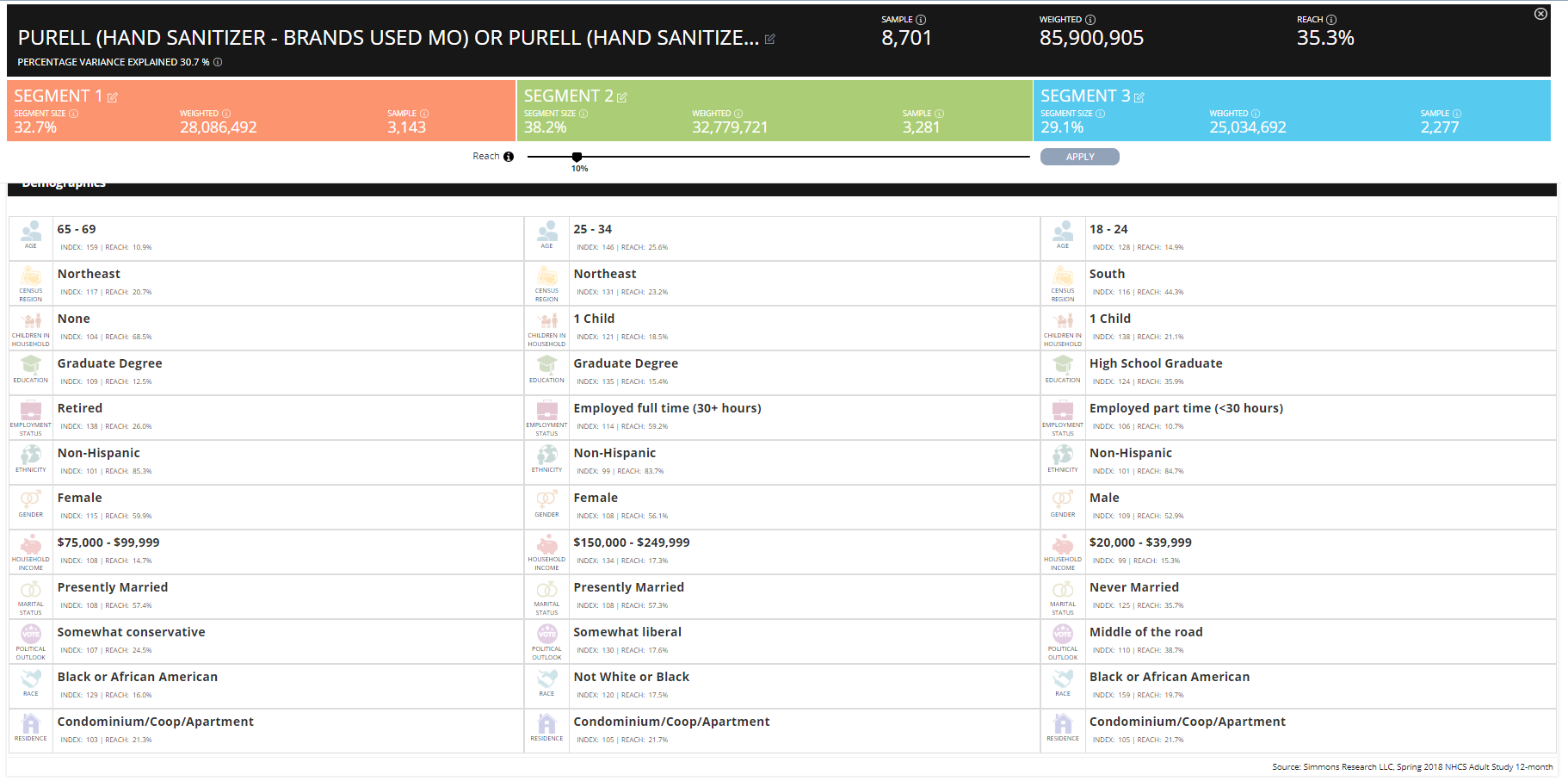 Meanwhile, as we saw earlier with the Ford Consumers, the segments did not greatly differ from one another. This can support the need for more research to find differentiators so the creative can speak to each niche audience or it can suggest that an awareness campaign for Ford could use fewer creatives.
Persona Creator Beta puts segmentation at the click of a button, to quickly discover how a brand spans households regardless of income. Or see how a brand appeals to multiple generations because the consumers are motivated to purchase brands that give back to the environment. There are many reasons why consumers make purchases. We may never uncover them all, but by identifying the themes, discovering how what looks like disparate groups of people are actually motivated by similar beliefs, you may find your brand unites people. Our challenge to you is, what can you do with that information?
For more information on Persona Creator Beta, click
here
or
contact us
to get a demonstration and learn more.