Automated partnership exploration and audience analysis tool streamlines media sales efforts
NEW YORK, May 8, 2019 - MRI-Simmons, the leading provider of insights on the American consumer, today announced the launch of Sales Catalyst, an automated partnership exploration and audience analysis tool. Built on the Simmons Insights platform with Smart Search technology, Sales Catalyst helps advertising sales, partnership and sponsorship teams illustrate the overlap between their audience and that of a potential partner. Sales Catalyst arms researchers with advanced data visualizations that quickly quantify the value of their audience, which can be leveraged by media sales teams to find and pitch new partners.
Sales Catalyst allows researchers to:
Gain deeper insights into the mindset of a target persona, specific media consumers, and the overlap between the two.
Quickly assess which media properties, segments, and content resonate with the target audience, then build packages to highlight their competitive advantage.
Benchmark their audience against that of the competition to inform pitch strategy and creative recommendations.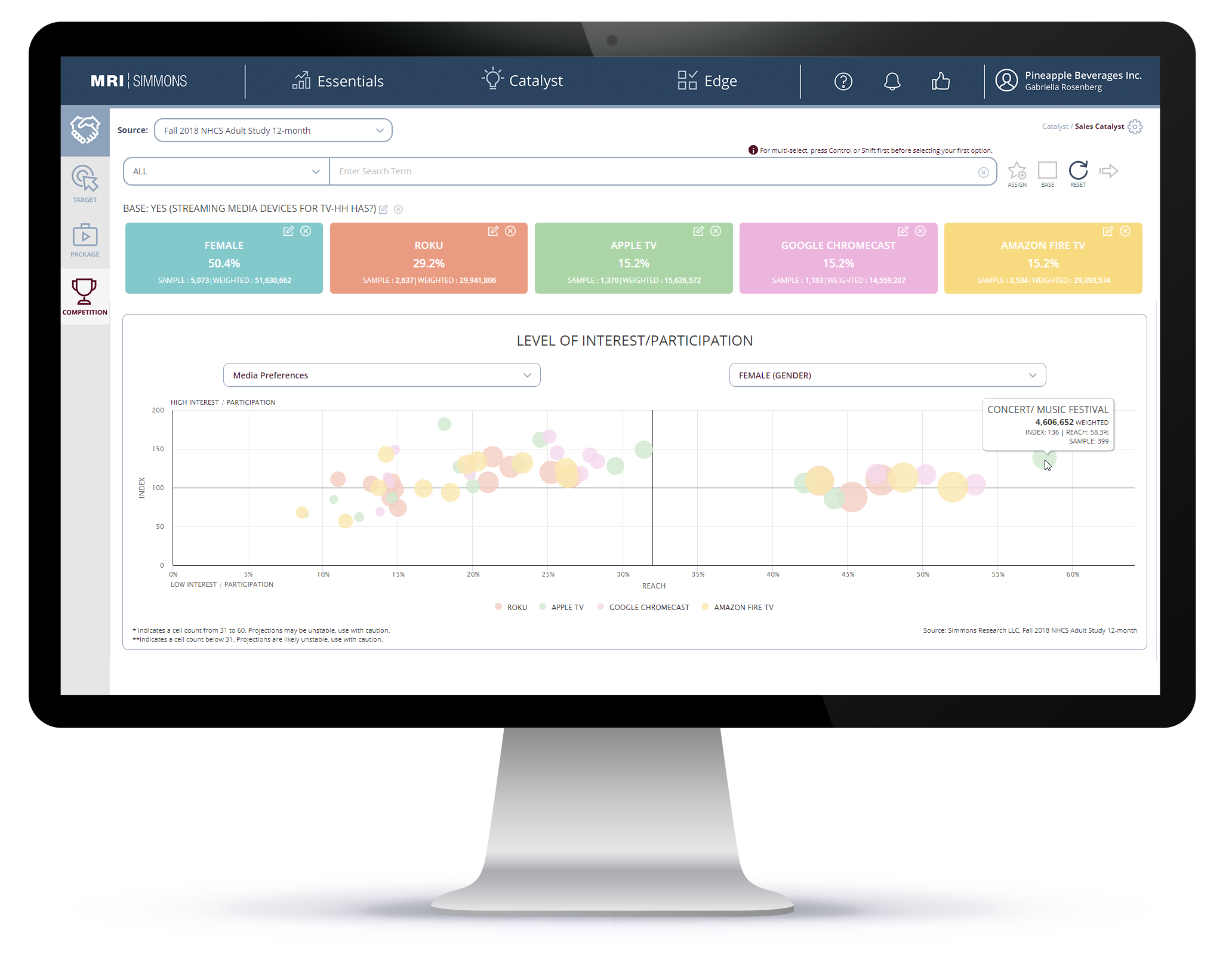 "Researchers and marketers today spend an exorbitant amount of time aggregating data and curating it into stories that highlight their unique offerings and show the value of partnerships," said Anna Welch, President of MRI-Simmons. "Now, with Sales Catalyst, they can more quickly and efficiently extract a compelling story about their audience, and illustrate that story for ad-sales teams to identify and pitch new partners."
Sales Catalyst is available for licensing immediately. To learn more visit simmonsresearch.com/simmons-insights/sales-catalyst/.
About MRI-Simmons
Launched as a joint venture under GfK in 2019, MRI-Simmons combines the assets and expertise of two of the leading consumer insights providers in the US. Together, they will offer agency, media, and advertiser clients the best in research and technology with the highest quality data, the strongest strategic partnerships, the most innovative digital platforms, and intuitive, easy-to-use visual reporting. MRI's Survey of the American Consumer® – which has maintained MRC accreditation for over 20 years – is used in the majority of US media and marketing plans and has long been the industry standard for magazine audience ratings. Through 24,000 in-person interviews each year, MRI captures in-depth information on consumer media choices, attitudes, and consumption of products and services in nearly 600 categories. Simmons measures American consumer psychographics, preferences, attitudes, and media behaviors by closely overlaying survey and passively measured data using advanced measurement sciences. For more than 60 years, Simmons has helped leading brands, agencies, and media companies effectively engage with consumers, providing measurement of over 200,000 consumer elements. For more information, please visit www.simmonsresearch.com and follow @MRI_Simmons on Twitter.
About GfK
GfK connects data and science. Innovative research solutions provide answers for key business questions around consumers, markets, brands and media – now and in the future. As a research and analytics partner, GfK promises its clients all over the world "Growth from Knowledge."
Media Contact
Matt Cumello
Senior Director, Marketing
press@simmonsresearch.com